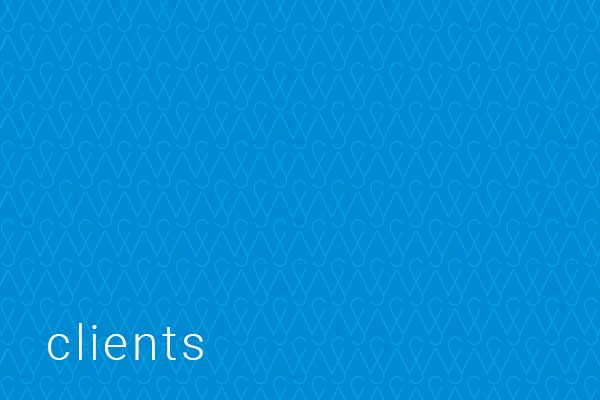 We've worked with great brands and great companies. Close partnerships with great clients let us do world-class work. Below is a list of some of them:
AG Coombs
ANZ
Agriculture Victoria
Australian Budget Accommodation Group
Brotherhood of St Laurence
CGU
Council On The Ageing Victoria - COTA
COTA New South Wales
Department of Infrastructure - DOI
Department of Planning and Community Development - DPCD
Department of Veteran Affairs
Frederick Warne and Co. - Beatrix Potter
Global Partners USA
GMDxco - Gene Mutation Diagnostics
Government of Dubai - Road Traffic Authority
Guild Group
Hallmarc Asset Management
Jones Lang LaSalle
LMA PacMed
Logie-Smith Lanyon Lawyers
Mattel Inc. - Barbie
Medibank Private
Melbourne University
Municipal Association of Victoria - MAV
Murdoch Childrens Research Institute - MCRI
National Rugby League - NRL
Nickelodeon - Rugrats
Pharmacy Guild of Victoria
Penryhn International
Pentana Solutions
Port of Hastings Development Authority
Quality Built - Master Builders
Rattan Direct
Road Traffic Authority - Dubai
Road Traffic Authority New South Wales - RTA
Seniors Information Victoria
Seniors Rights Victoria
Spelling Television Inc.
State Government of Victoria
Taxi Services Commission
Transport Industry Safety Group
Transport Accident Commission - TAC
TRUenergy
Twentieth Century Fox Film Corporation - The Simpsons
VicRoads
– Custom Plates
– Road Safety and Network Access
– Early Childhood
– Traffic Safety Education and Pedestrian Safety
– Motorcycle Safety
– Traffic Management and Road Safety
– Vulnerable Road Users
Venn Construction
Victorian Transport Authority - VTA
Very Special Kids
YMCA Victoria